I have gone through many different TPS / ISC reset procedures and this is what worked best for me.
Familiarize yourself with the locations of...
TPS - Throttle Position Sensor
ISC - Idle Speed Control
MPS - Motor Position Sensor
ISC adjusting screw
Fixed SAS screw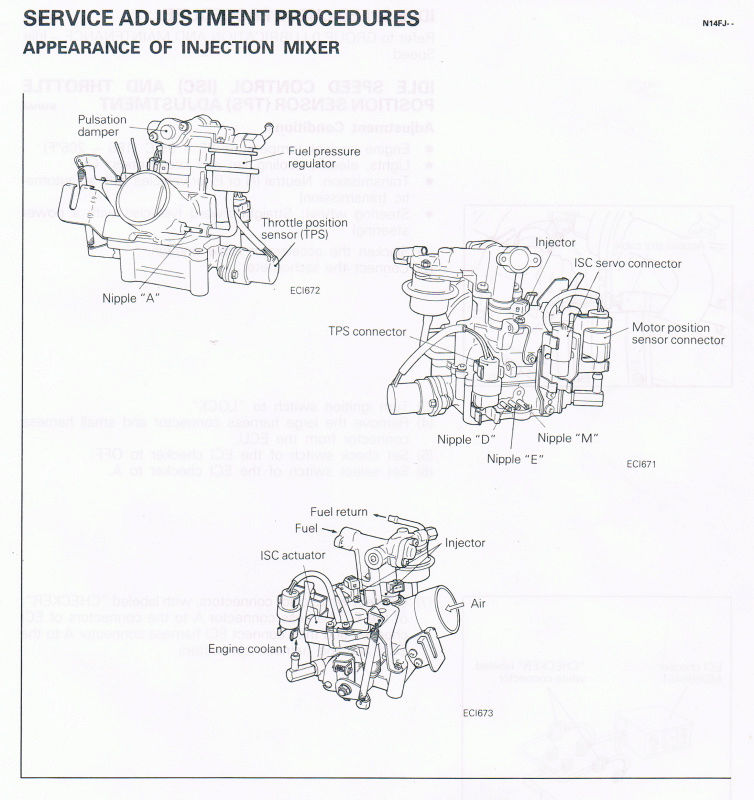 Engine at operating temperature and all accessories off, steering wheel strait ahead. (This minimizes any additional loads on the motor)
1) Loosen the accelerator cable at the 12mm nuts so it has no tension on it.
2) Connect voltmeter to MPS terminals 1 and 4.
3) Stat engine. Check that MPS output is 0.9v at 850 rpm.
4) If not as specified, adjust using ISC adjustment screw. (CAUTION! Use a hexagon wrench whenever possible)
5) Turn ignition to "Lock".
6) Disconnect the ISC motor connector.
7) Start the engine and adjust idle.

Tighten the Fixed SAS screw until engine rpm starts to increase. Then, loosen until engine rpm ceases to drop (touch point) and then loosen 1 turn more.
9) Stop engine.
10) Turn ignition "On" (without starting engine).
11) Connect voltmeter to terminals 1 and 2 of the TPS.  Value should be 0.48 - 0.52v
12) If not as specified, loosen TPS mounting screws and rotate TPS until value is as specified.
13) Set ignition to "Lock".
14) Adjust accelerator cable free play to approximately 1mm.
15) Connect ISC motor connector.
16) Start engine and check that idle is about 850 rpm +/- 100 rpm.
17) Turn ignition off.
18) Disconnect negative battery cable to erase codes set from disconnecting sensors.
***Note***
This procedure works very well for me, although I have noticed it may need to be performed two or three times over a few days to get everything "dialed in" properly. Especially if your vehicle has been "adjusted" before by someone trying to fix idle issues without this information